How do startups design their products or services to enhance customers' trust?
A sense of trust depends on the existence of risk, especially in economic transactions. In Digital Financial Services (DFS), there is perceived and real risk from both the customer and the provider perspectives. From the customer perspective, we know that distrust grows when providers are not transparent, do not consistently deliver on their promises and compromise customers' experience with the product. When trust is breached, it is very difficult to rebuild. From the provider perspective, lack of trust adds significant costs, time and stress that affect the company's bottom line.
If the startup knows how to design to enhance and maintain trust with customers, it gains a major competitive advantage. Trust is in fact the essence of relationships - with suppliers, clients, investors, employees - and it is a major determinant of startups success.
We saw this need across many startups we worked with, so we decided to start our toolkit to help companies design for trust creation.

Contents
1. Definitions
2. Design for Trust Framework
3. Trust Case Studies
4. Tools
5. Playbook
6. Further Reading
Toolkit Area
Trust Creation

Estimated time
3 hours

References
Pirate metrics
AVL Startup resources
1. DEFINITIONS
---
1a. Drivers of Trust in DFS
Many variables contribute to customer perceptions of trust, but we have distilled the five elemental drivers we think matter most for DFS.
1
Competence
Give the users proof of your capability. Ensure that you are able to perform what you have promised with no errors and with consistency.
2
Appearance
Leave the user with the best impression of the service, something that people want to follow, buy and share with friends. Establish a connection with your users by building a beautiful product.
3
Control
Give the user appropriate tools to manage their actions. Allow them to get a sense of control in the interaction with your product & service.
4
Transparency
Be open and clear on the things you ask and why are asking for them. Align your incentives with those of the customer. Be true to what you can deliver, thus maintaining strong integrity.
5
Commitment & Benevolence
Show you truly care and are committed to doing what is right for your customer. Identify, monitor and mitigate customer risks (i.e. fraud or inadequate handling of customer data). Maintain privacy, confidentiality and respect.
---
1b. Stages of the Customer Journey in DFS
Trust is built along the Customer Journey in DFS. There are four stages to consider throughout the customer experience and how the design of your product or service builds or erodes customer trust at each phase.
Acquisition: How do customers find you?
Customers hear about the product interact with it for the first time.

Activation - Do customers have a great experience?
Customers sign up and achieve the value you promised.

Retention - Do customers come back?
Customers keep using the product/service regularly over time.

Referral - Do customers tell others about the product or service?
Customers talk about the product or service and refer them to their peers.
Additional reading: Pirate metrics is a well-known framework designed by Dave McClure for startups (using freemium business models) to help the management focus on the crucial decisions to make and where to measure along the customer's journey. By doing so, startups can achieve the kind of conversion that is vital for the startup's growth. The AARRR (said outloud while motioning wildly like a pirate) model is Acquisition-Activation-Retention-Referral-Revenue).
---
1c. Trust points
Trust points (TP) are specific points along the customer journey that can create or destroy trust. Refer to the trust framework below.
2. DESIGN FOR TRUST FRAMEWORK
So, how can companies build trust?
By combining together the drivers of trust and the stages of the customer journey into "trust points (TP)", we have the following Design for Trust framework to guide how to create trust from the customer's perspective. This framework helps the startup assess, structure and measure points along the customer journey where trust is created or destroyed.
Below, we will examine each stage of the customer journey, and how to apply the trust drivers.
You can then use the Design for Trust Canvas in the Tools section to chart and explore yourself, how your startup handles these trust points.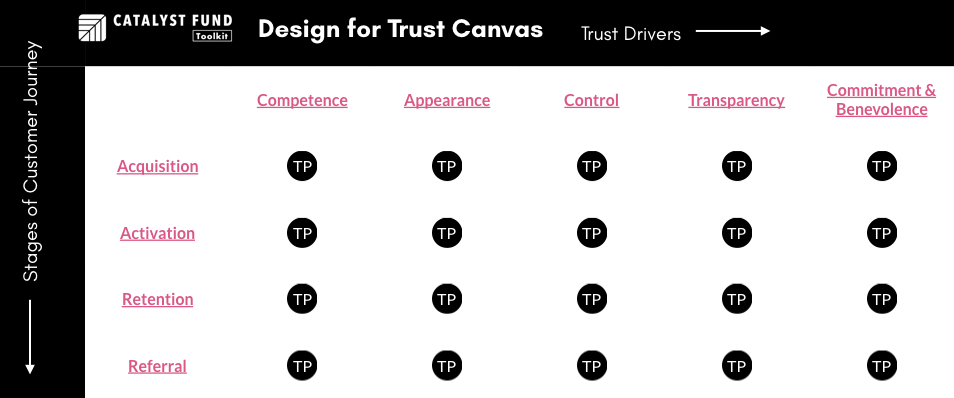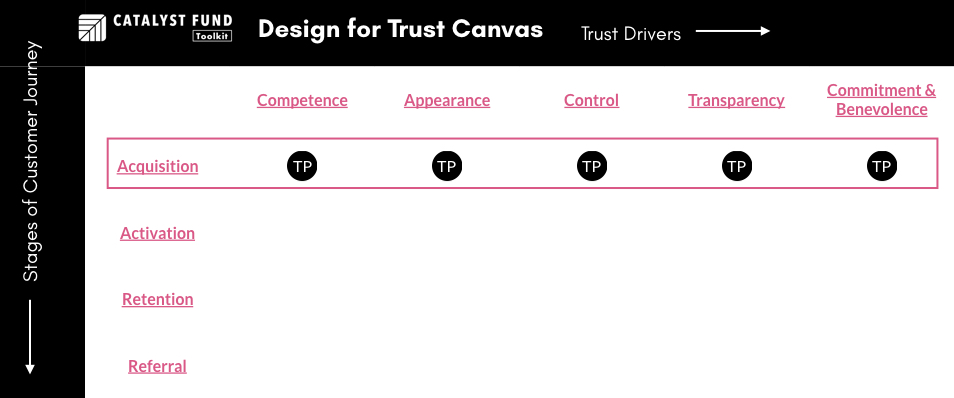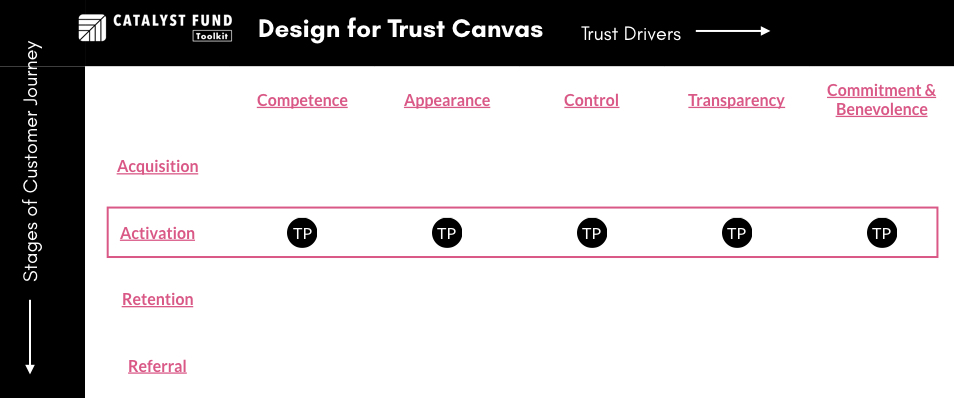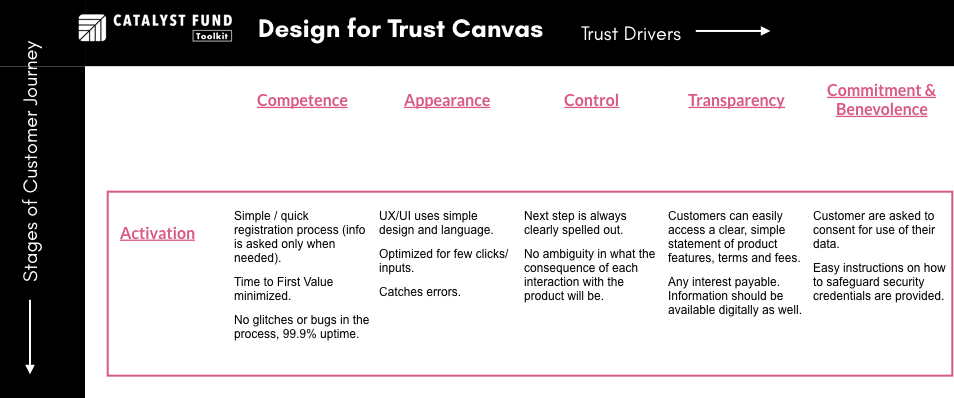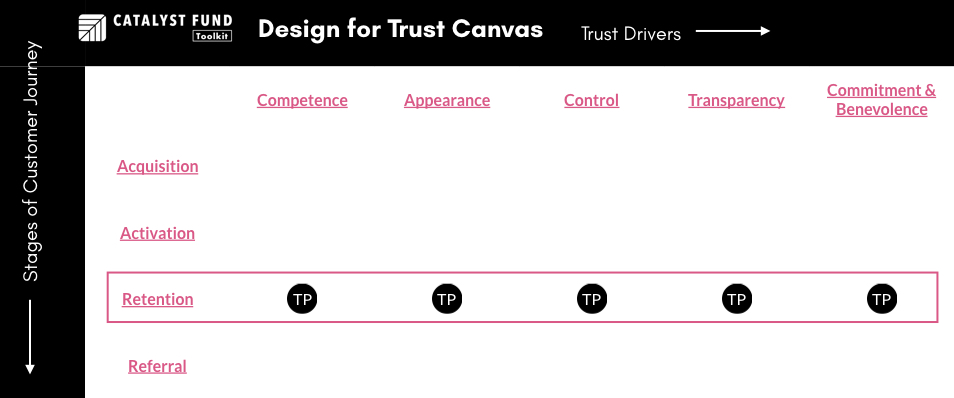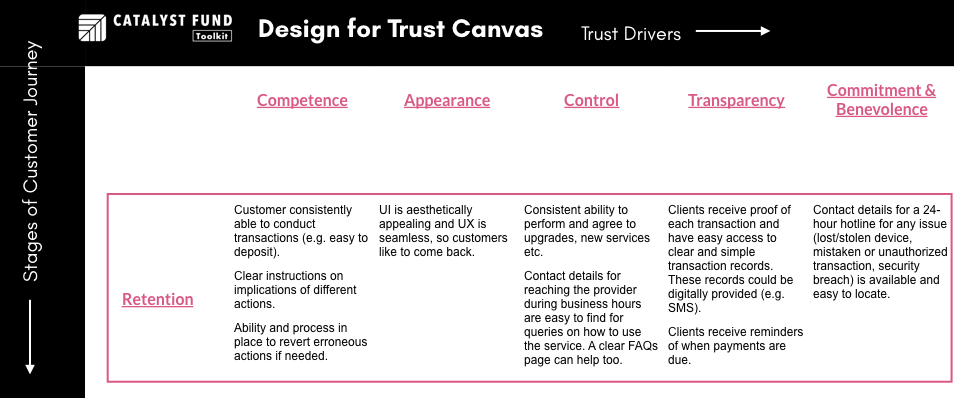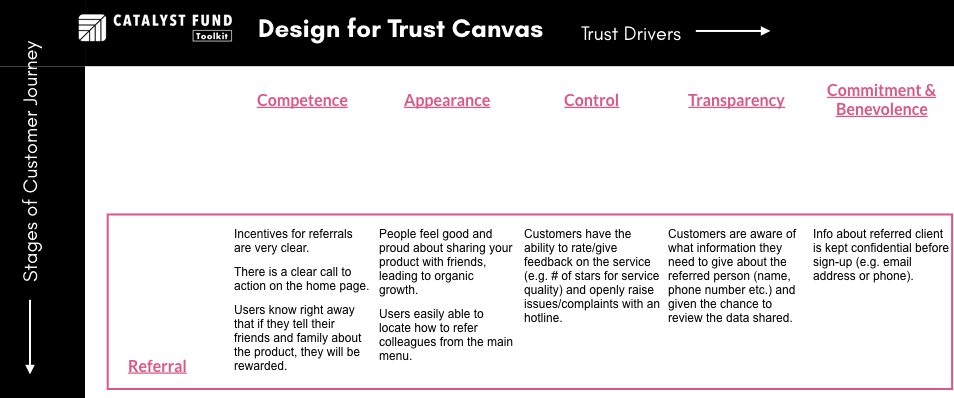 EXAMPLES OF TRUST POINTS ALONG CUSTOMER JOURNEY
Consider how you can employ the trust drivers to give clear signals along the customer journey to potential customers that their trust matters in you, matters.
---
Competence
Drive trust by giving the users proof of your ability. Ensure that you are able to perform what you have promised, with no errors and with consistency. Deliver real results.
Customer Journey
Signals to Customer that Drive Trust

Acquisition

Products design based on research on clients' needs, preferences and behavior from the get-go and with the market characteristics in mind.

Activation

Simple / quick registration process (info is asked only when needed).
Time to First Value minimized.
No glitches or bugs in the process, 99.9% uptime.

Retention

Customer consistently able to conduct transactions (e.g. easy to deposit).
Clear instructions on implications of different actions
Ability and process in place to revert erroneous actions if needed.

Referral

Incentives for referrals are very clear.
There is a clear call to action on the home page.
Users know right away that if they tell their friends and family about the product, they will be rewarded.
---
Appearance
What the customer experiences the first few times they use the product can make or break trust in the service. DFS in the developing world is plagued by users that complete the registration process, but never go on to become regular users. Providers can avoid certain key pitfalls and perform actions to engender continued trust at this stage.
Stage of Customer Journey
Signals to Customer that Drive Trust

Acquisition

Design takes into account customers' likely financial & technological capability levels.
Takes into account low-bandwidth environments.r>

Activation

UX/UI uses simple design and language.
Optimized for few clicks/inputs.
Catches errors.

Retention

UI is aesthetically appealing and UX is seamless, so customers like to come back.

Referral

People feel good and proud about sharing your product with friends, leading to organic growth.
Users easily able to locate how to refer colleagues from the main menu.
---
Retention
What the customer experiences the first few times they use the product can make or break trust in the service. DFS in the developing world is plagued by users that complete the registration process, but never go on to become regular users. Providers can avoid certain key pitfalls and perform actions to engender continued trust at this stage.
Competence
Customer consistently able to conduct transaction (e.g. easily deposit).
No glitches or bugs in the process, that is, 99.9% uptime.
Control/Expectations
Contact details for reaching the provider during local business hours so clients have a reliable source of information about how to use service.
Transparency
Client receives proof of each transaction and has easy access to clear and simple transaction/account records. These records could be digitally provided (e.g. SMS).
Appearance
UX/UI appealing aesthetically
Confidentiality/Consumer Protection
Contact details for a 24-hour hotline to notify the provider about
- a lost or stolen access device or related security credentials, a mistaken or
- unauthorized transaction, or a security breach
---
Intermediary
A client is compensated by the provider for any direct loss due to fraud by agents and third party service providers preventable security breach. Clients are also informed promptly of any suspected fraud.
---
Referral
When customers start referring your product, that's the ultimate stamp of approval on trust! When users feel proud to share your product with family and friends, your network of users can grow for free. This type of organic growth is very important for Digital Financial Services.
Competence
Product has superior performance compared with competitors.
Referral program has clear benefits for the client and his referred friend/family member.
Control/Expectations
Ability to rate/give feedback on service (e.g. # of stars for service quality.
Transparency
Incentives for referrals are clear.
Appearance
User easily able to locate how to refer colleagues from the main menu.
Confidentiality/Consumer Protection
Information about referred client is kept confidential before sign-up (e.g. email address or phone).
---
Intermediary
Intermediaries communicate benefits of referring clearly to clients.
---
Revenue
Monitoring revenue is crucial for startups. When customers pay for your product, it's a great sign that they trust and see value in your services. However, don't get tempted by revenue to early. Getting product design and market fit right are crucial first steps in DFS.
Competence
ROI for customer is consistent.
Control/Expectations
Customer easily able to obtain information on other services (e.g. fixed deposit; loan limit for credit).
Transparency
Prices and terms clearly explained.
Appearance
UX/UI clearly communicates rates and fees in a few different ways.
Confidentiality/Consumer Protection
Prices are fair and competitive with market rates. No hidden fees charged to the customer.
---
Intermediaries
Intermediaries charge fair and transparent prices.
Below are case studies that we have created by gathering and interpreting how other DFS industry players are applying trust in their products and services. These case studies were created from our own research and did not involve primary sources from the organizations other than what is available online in the public domain.
1. Design for Trust Framework Canvas
Download and print out the Design for Trust (DFT) Canvas and identify the trust point opportunities and challenges you have along the customer journey.
2. Trust Creation Roadmap
Once you have identified the different trust points through the AARRR stages of the customer journey, you can use the Trust Creation Roadmap to prioritize the different trust points you want to pursue and or explore. You should plot the different trust point opportunities or solutions to the challenges along a single customer journey that you think makes sense for your firm to pursue in this sequence at this time.
Now you have learned about the theory behind trust creation, learned from the examples in the industry and looked over the tools in this chapter. What do you do next? The below is a simple playbook of what to do next.
Step 1
With your team, including management, product management and customer research teams, identify all the trust points in your customers' journeys with your product or service. Use the Design for Trust canvas to identify all possible trust points. There may be more than one in each stage vs trust creation element.
Step 2
After you have identified all the trust points, prioritize the trust points in order of potential to increase market share and feasibility. Make sure all stakeholders are represented in determining the priorities for your organization. Use the Trust Creation roadmap to plot out the priority along each stage of the customer journey that your company should pursue now. What do you need to achieve in each stage, and with what metric do you measure against to assess if you are successfully creating trust?
Step 3
Apply the Do's and Dont's to your approach.
DO make the registration process as quick and simple as possible.
DO give control to the user by confirming any transactions and status updates.
DO have a dedicated customer questions hotline.
DO have clear and compelling customer referral rewards.
DON'T go to market until you have thoroughly tested and fixed all bugs and errors. One bad experience, and people won't trust you with their money.

DON'T make your UI complicated and verbose.

DON'T make it difficult for users to find out information on terms and conditions.

DON'T assume that your customer does not need to interact or talk to a human being ever.
Believing is seeing
The Economist
New technologies will make society richer by cultivating trust
The Evolution of Trust
The NYTimes
Op-ed on the evolution of trust
How Airbnb and Lyft Finally Got Americans to Trust Each Other
Wired.com
We are entrusting complete strangers with our most valuable possessions, our personal experiences—and our very lives. In the process, we are entering a new era of Internet-enabled intimacy.
The economy of trust
An insightful look at the sharing economy (Uber, Airbnb and TaskRabbit, amongst others) and why trust has become an undeniable force in today's market.
Why Trust Matters More Than Ever for Brands
Harvard Business Review
We've all been taught that trust and reputation are important elements of branding. Today, though, trust is not simply a nice thing to have, but a critical strategic asset. The drivers of brand value have changed over time, and there are three forces at play that have brought the issue of trust to the center stage.
The right design at the right time
Medium
A Design Partner at Google Ventures goes over the hierarchy of design that all great companies move through:
Level 1, Product Design: create a product that solves a problem or satisfies a desire
Level 2, Interaction Design: make it easy to understand and use
Level 3, Visual Design: make it beautiful
Top 10 Things to Know About M-Shwari
CGAP M Shawari believes the relationship between savings and credit taken together is crucial for the generation of trust - an important reminder not to always think of credit and savings in separate silos.
Branch is raising a massive funding round to launch in Uganda & Tanzania next month
TechMoran
Branch uses the trust networks from its users digital connections as credit scores so the friends one has matters. The advantage it has over others is that it's going into long-term lending and not shortterm lending as its competitors.
This App Wants You To Borrow Money From Friends, Not Banks
FinTech Ranking
Trust builds over time. This happens organically when you're around a person in real life, but Puddle obviously didn't have that luxury. The service needed to accelerate the feeling of trust in our virtual lives in order to make their idea work, and they did this by building on some core social media mechanics.
4 UI Design Lessons For Underserved Markets
The Ammunition-backed microlending startup Branch is a great study in how to design user experiences for the developing world.
Consumer Trust eBulletin by Mozilla and bics
Supported by Mozilla and bics, this eBulletin examines the issue of Consumer Trust in the mobile ecosystem. It takes an in-depth look at the business models, regulatory landscape and market drivers that are shaping mobile business through the lens of Consumer Trust and includes discussion on a healthy Internet from Chris Riley, head of public policy at Mozilla, a look at the influence of the forthcoming GDPR from senior security & risk analyst Chris Sherman at Forrester as well as a guide to global regulation, market forecasts and much more.
The Trust Factory
Dan Ariely, Dialogue Review
Humans trust one another. But can they trust organizations? With the right strategies, they will.
Did you find the toolkit useful? How could we improve? What other content should be included in this toolkit?
Let us know by sending us a message below.